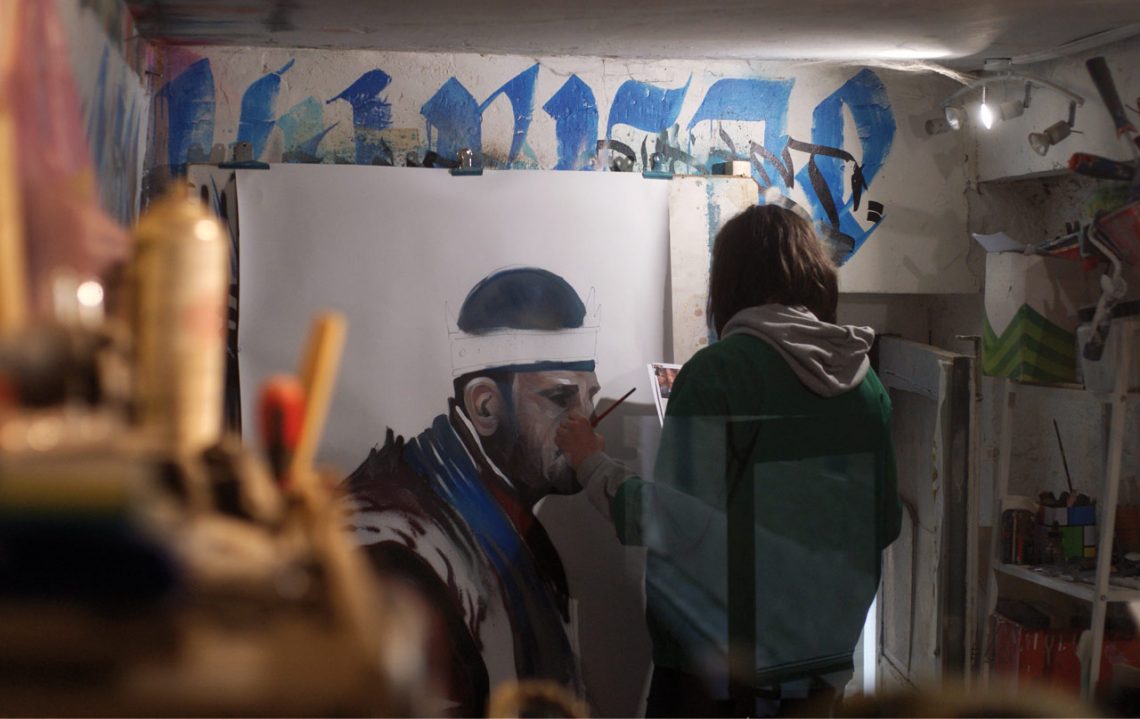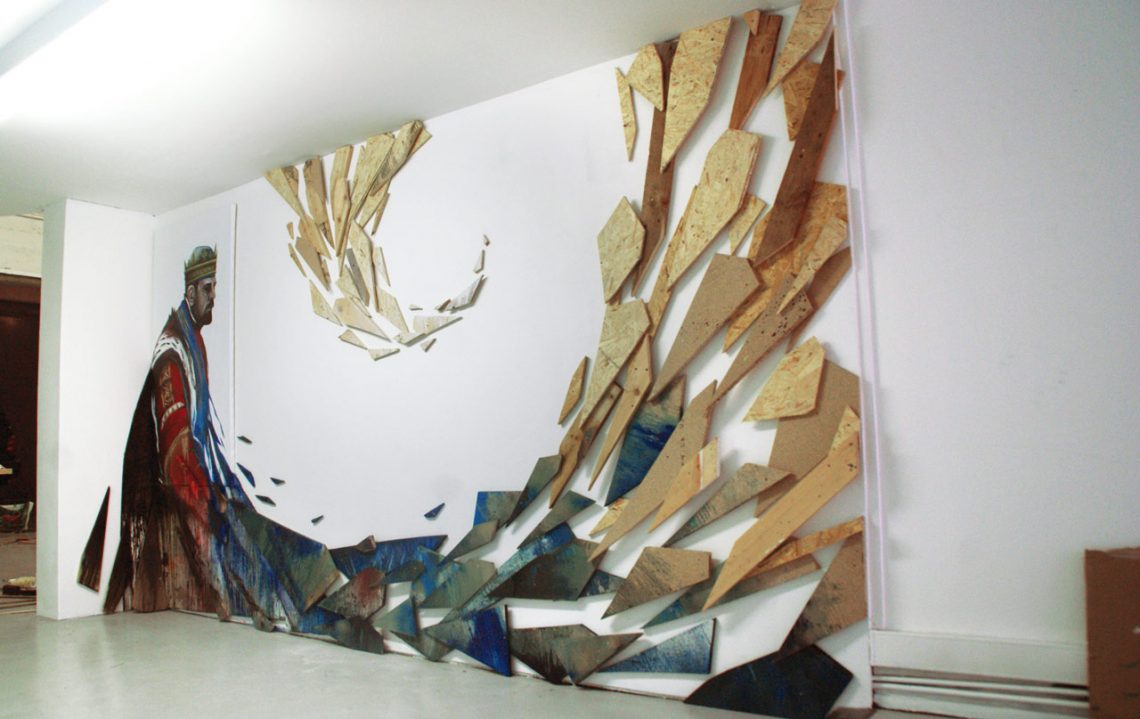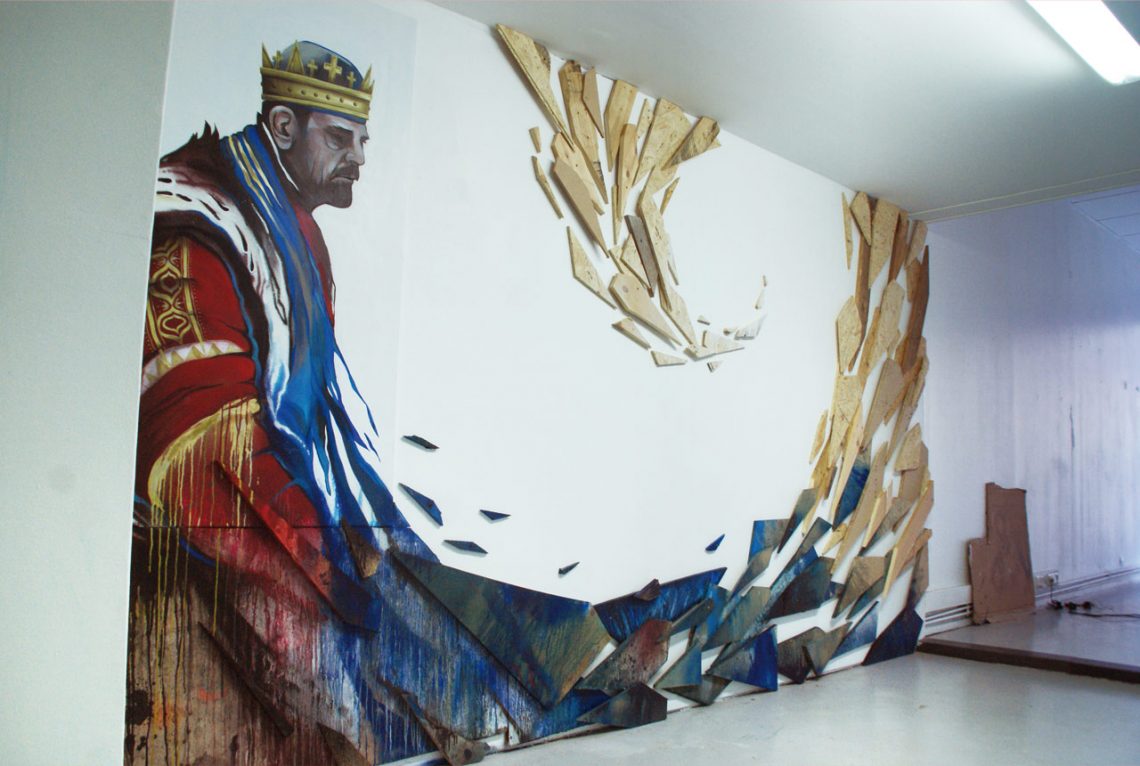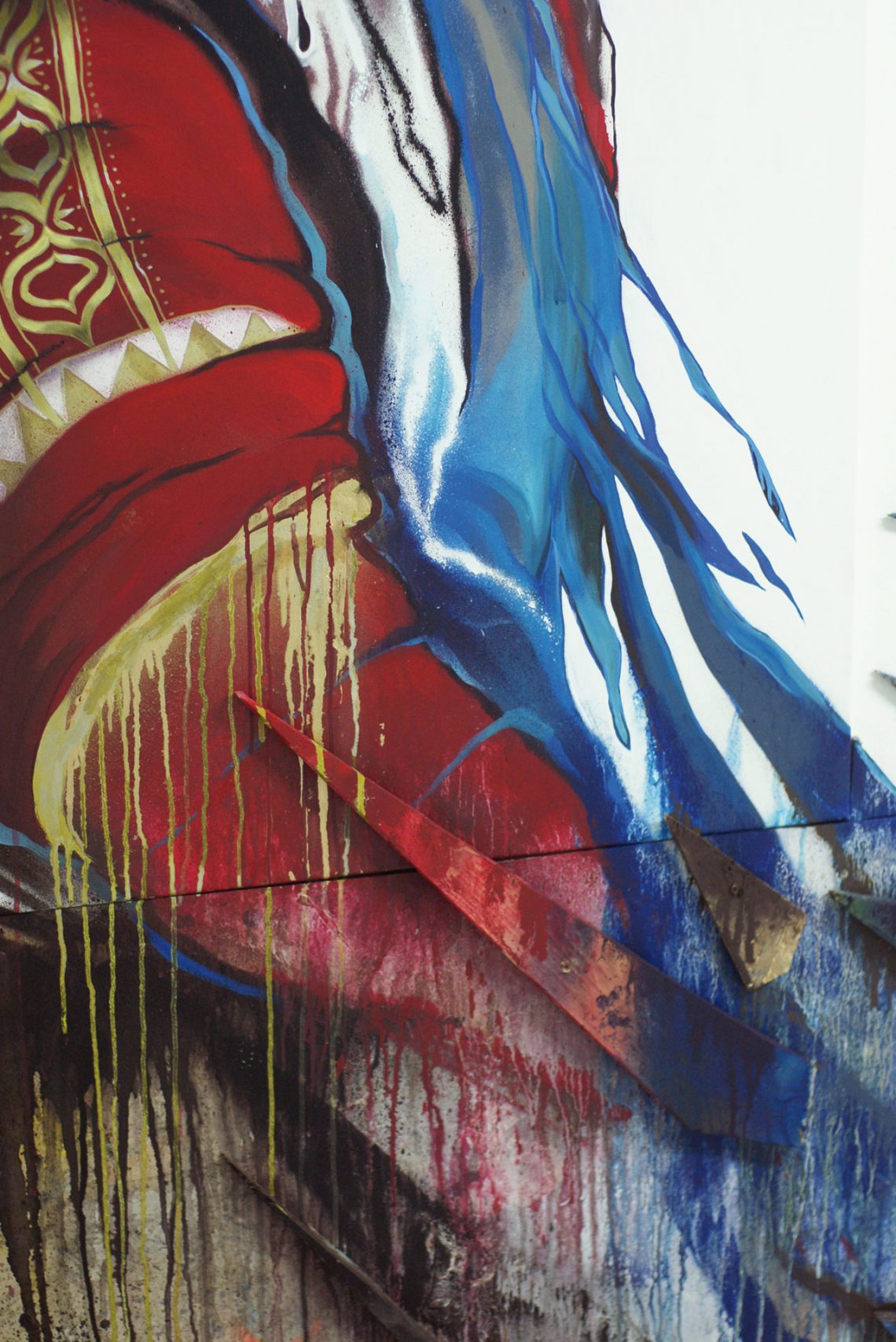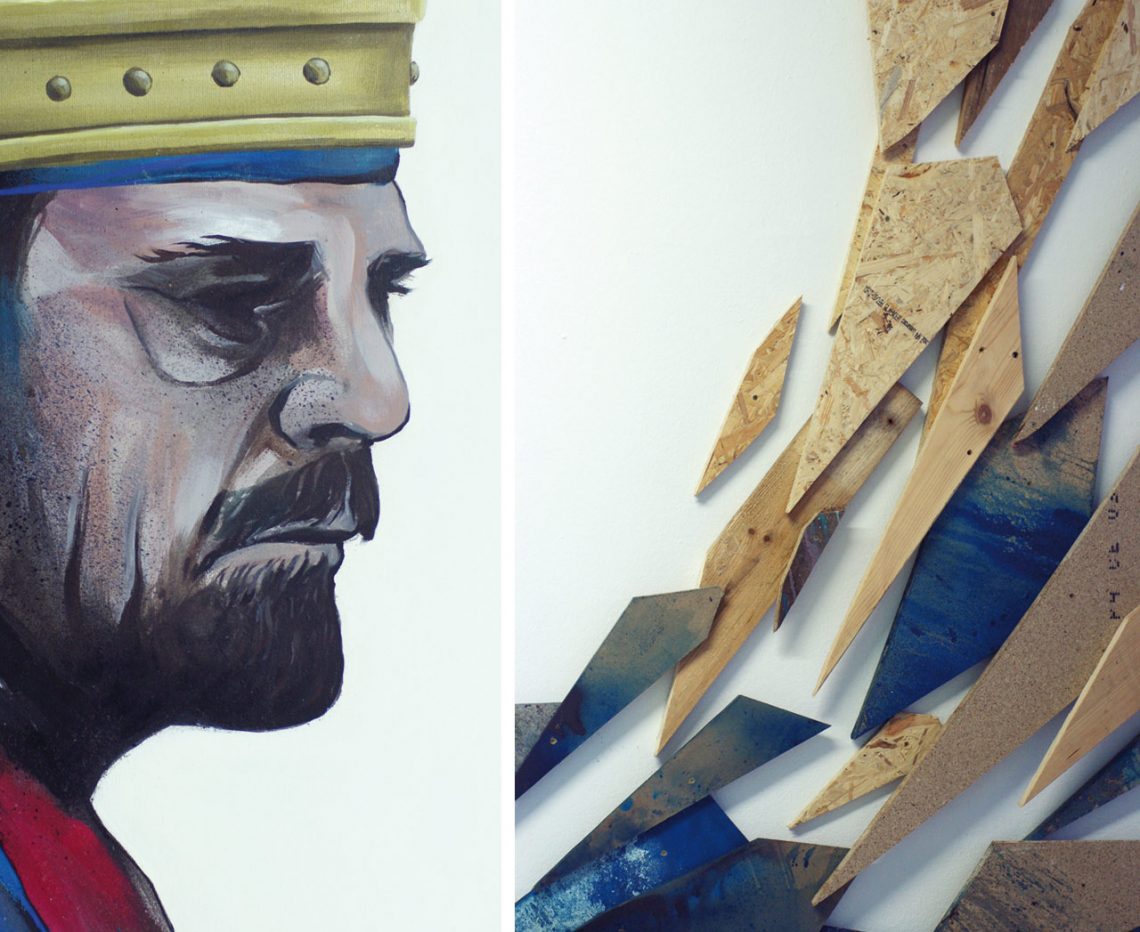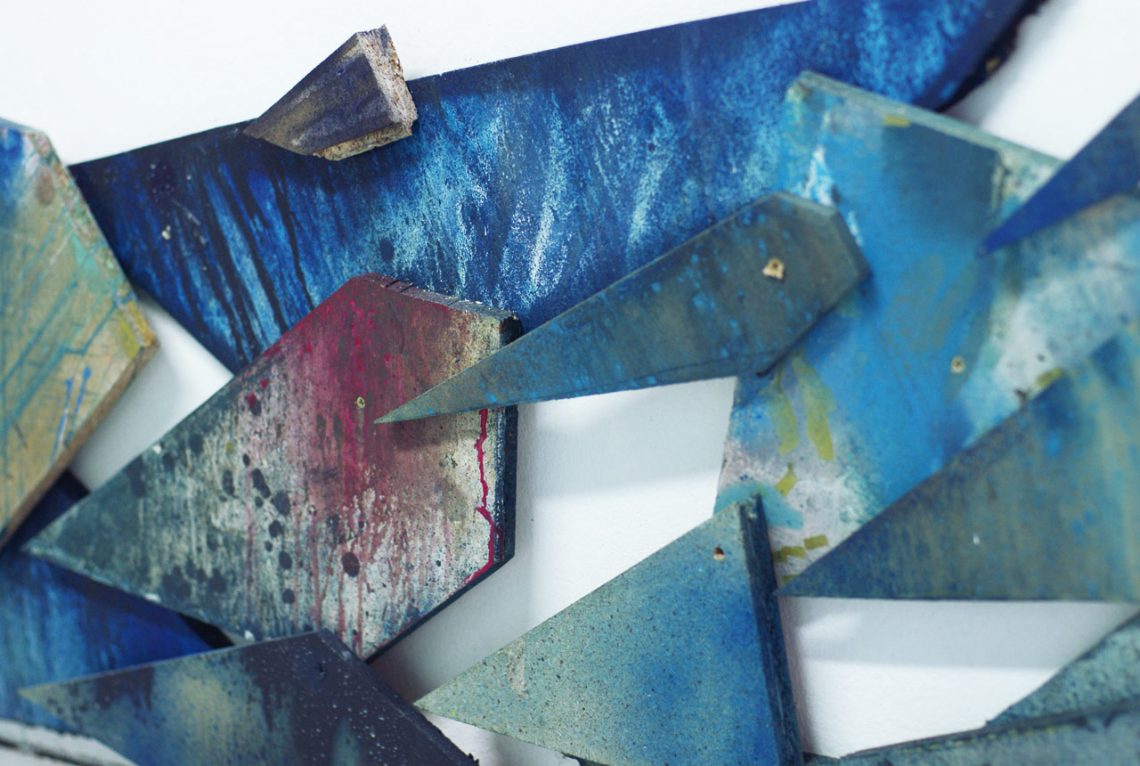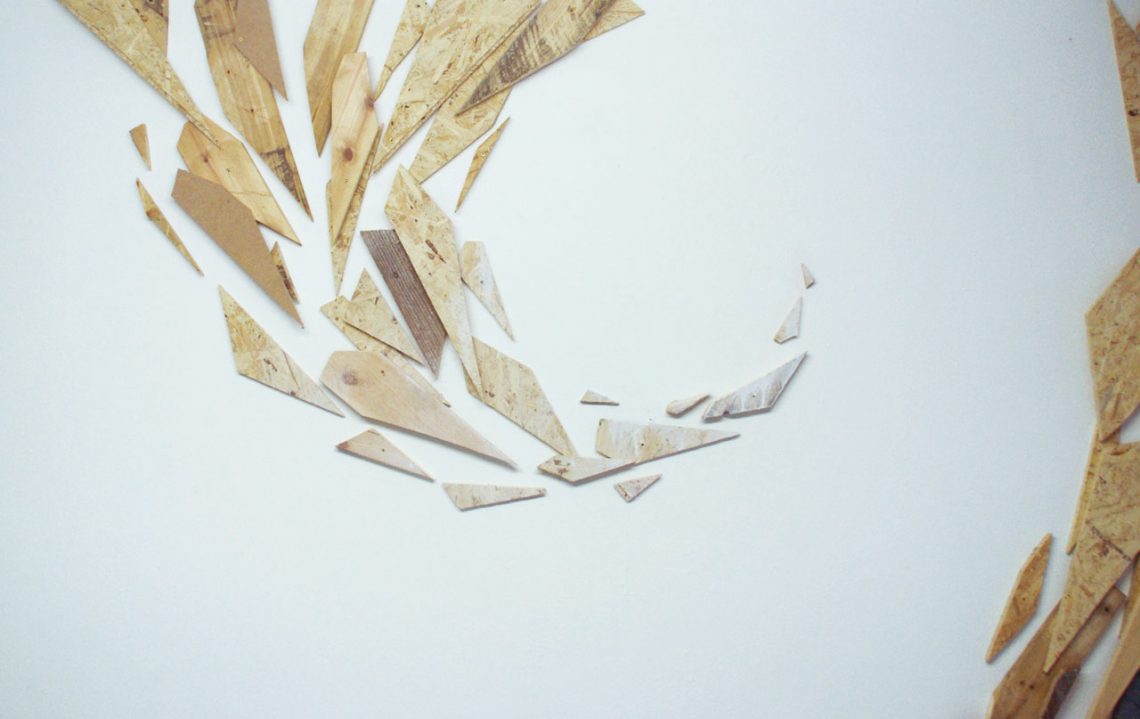 2
Installation
DATE / may 2016
PLACE / Art By Friends - Annecy, Haute-Savoie (France)
EVENT / collective exhibition - Grandeur & Décadence
MEDIUM / paint, spraypaint, markers & wood
Based in the French Alps, Art By Friends invited us to participate to a collective exhibition called Grandeur & Décadence. We created an installation made of paint and wood, with a fallen king turning into pieces of wood.
---
La galerie Art By Friends nous invite à participer à l'exposition collective Grandeur & Décadence. Nous avons mis en place une installation sur ce thème, avec un roi en majesté qui se délite peu à peu parmi des débris de bois.
PREVIOUS /// NEXT project
FR /
Grandeur & Décadence, c'est le thème de l'exposition collective organisée par la galerie montréalaise Fresh Paint au sein de l'espace Art By Friends. À cette occasion, onze illustrateurs locaux et internationaux sont invités à s'exprimer sans restriction sur les grandeurs et décadences de notre société contemporaine. Entourés des artistes locaux Brokovich, Morte, Onekon7, Tougui, mais aussi de Carolina Espinosa, Lapin, Okies, Opire, TLMC et les allemands Various & Gould, nous avons proposé une installation sur ce thème. Un roi fatigué se tient sur le mur, dans des habits chamarrés de rouge et de bleu, rehaussés d'or. Ses atours se disloquent peu à peu et se transforment en morceaux de bois, qui s'éparpillent pour former une grande spirale. La superposition et l'assemblage des éléments créent ainsi une grande vague sur le mur. Réalisée à partir de matériaux de récupération et de chutes de bois, cette installation était pour nous l'occasion de travailler ce matériau que nous affectionnons.
---
EN /
Decline and Fall is the main theme of the collective exhibition organized by Fresh Paint gallery from Montreal, in the Art By Friends gallery in Annecy. Eleven local and international illustrators are invited to express themselves about greatnesses and decay of our contemporary society. Among local artists Brokovich, Morte, Onekon7, Tougui, and also Carolina Espinosa, Rabbit, Okies, Opire, TLMC and the German artists Various and Gould, we created an installation on this theme. A tired king stands on the wall, in red and blue adorned clothes enhanced by gold patterns. His clothes are falling little by little into pieces of wood, scattering in a big spiral. The overlay of elements creates a massive wave on the wall.  Realized from salvaged pieces of wood, this installation was for us the opportunity to work with this material we enjoy.
---